Instagram bio ideas might seem like a simple thing to come up with at first glance. However, it can be easy to take those 150 characters for granted. As Instagram continues to grow its monthly users faster than Facebook, Twitter or Snapchat, there's never been a better time to start using the platform for your business.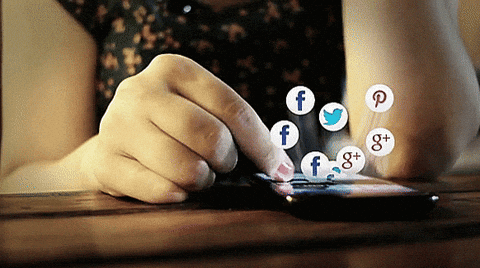 According to research, it can take just under two-tenths of a second for someone to form an opinion on your brand based on a social media profile. You need to be sure you're grabbing potential customers' attention straight away. Give them a reason to follow, like, share – and ideally, convert!
Assembling the perfect bio for your brand takes a bit more effort than just writing a few lines – but once you put in the work, the benefits are worth it. We've gathered together some key examples of our favorite Instagram bio ideas to help get you started!
Know what your brand's voice is
Your company's tone of voice and personality is key when it comes to showcasing your brand's identity on Instagram. Be it playful and quirky, or more formal and to the point, you can convey your brand's voice in a number of ways using just the bio.
The New York Times Instagram is simple yet effective, opting for the 'less is more' approach. This is pretty common for big brands who are already established – they know most people clicking will know who they are already! By simply having the phrase 'Telling visual stories' they get right to the point. The use of 👀 emoji lets readers know they aren't too serious all of the time either!
Whatever the size of your company, how you convey your brand identity in the bio is completely up to you. Letterfolk, a small homemade business, opt for a quick line explaining what they do and who they are. 'Meaningful products inspired by simpler times' also conveys an air of nostalgia and comfort, which extends to their products.
LEGO, on the other hand, needs far less info. As a household name, they simply let people know that they have indeed reached their Instagram. Telling consumers that this is where "everything is awesome!", they're keeping in line with their fun, playful tone. Also, they've included a memorable branded link that also functions as a CTA with LEGO.build/forreal – keeping their brand personality on their link as well!
Instagram bio ideas need a clear goal
When coming up with an Instagram bio, it's important to first decide on the main purpose of your Instagram account. This could be any number of things, such as:
Letting customers know about your latest product or offer
Simply to convey your brand's personality
Informing customers about your opening hours, support, or general availability
Telling people what it is your business does
Providing the customer's with some form of action to take
Let's take a look at a few examples:
Benefit Cosmetics, an American makeup manufacturer, have chosen the engage-the-fans option. By having their bio be a call to submit pictures of people using and wearing their products with a relevant hashtag, the tone of their account is immediately set. They want to encourage their audience to provide them with content – which both increases brand awareness as well as developing the relationship with the customer.
Cheddar, a live streaming financial news network, opted for the simple, matter-of-fact approach. Their overall branding has a nice sense of consistency, with the highlights organized and branded into genres. They want to let people know what they cover, where they cover it and provide people with a branded link to their online store.
Asos have gone for the two-pronged approach on Instagram – one account for their primary brand, and one account for their online platform 'Asos Marketplace'. With the main account, they have the same idea as Benefit Cosmetics – convey the personality of their brand, while encouraging their audience to tag pictures of their products with a relevant hashtag. Asos Marketplace, on the other hand, functions specifically to draw people to visit the website – with a simple call-to-action of "Shop what you see".
These brands may differ in what they're hoping to achieve with Instagram, but they all have the same driving force – a set goal for what they want the customer to do as soon as they see their bio.
Get the most from your bio link
When coming up with creative Instagram bio ideas, the link is a very important factor. This is the only clickable link available on your profile page, so you need to make it relevant and engaging. You may have noticed us mentioning branded links a few times already, and for good reason! We recommend using these instead of a generic short URL.
Branded links are custom short URLs which you control – branded with your business or company name. They provide greater trust, security, and deliverability – as well as giving you the ability to edit the destination URL at any stage (very useful for a static link, which is what the Instagram bio has). Check out some examples:
Chopard has created a branded link specifically to promote their new 'Happy Diamonds' collection. The destination URL of this link contains extra UTM parameters (chopard.com/us/jewelry/happy-diamonds?utm_source=Instagram&utm_medi), which Chopard use to track how many people are visiting the promotion's landing page from the platform.
Lamborghini has done something similar, but then also created individual links for each of their social accounts (_IG for Instagram, _TW for Twitter, etc). With each link, they can monitor the click analytics for each platform separately. This is one useful feature of branded links – include a variety of UTMs in a long URL, which can then be shared as a much cleaner branded link.
Alternatively, branded links can also be used as a call-to-action. Panda Express use their bio to feature a delicious sounding description of their food – followed by a link that literally tells customers to "Order Now". This gives them more space to describe their product while keeping the link clear and memorable. And of course, they can edit the destination URL of this link at any time, so the landing page will always be up to date with the latest offers.
To take this even further, you can turn that one branded link into a gateway for multiple destinations. LinkGallery is a tool that allows you to do just this. It is very beneficial as the one bio link directs your audience to all the different articles, events, sites and shops that matter to them most. Try it for free here.
It can be challenging to decide on the best Instagram bio ideas for your business, but putting in the effort is worth it. To recap, make sure you remember these three key points:
Know your voice: Ensure your bio conveys your brand identity straight away
Have a clear goal: Know exactly what you want your Instagram to do for your business, and structure your bio accordingly
Get the most from your bio link: Use branded links in the bio to keep the URL up to date, increase brand awareness, include UTMS, and gain link insights.
With these in mind, you're bound to develop slick, professional Instagram bio ideas for your brand's account.
When it comes to branded links by the way – we here at Rebrandly know a thing or two! With a link management tool such as ours, you can control and monitor all branded links you create. There's also link stats included, such as how many clicks you get, from where, when, on what devices, browsers, and much more.
Check out the benefits of link management in the video below, or follow the branded link: Rebrandly.Blog/LinkManagement
Originally posted: Feb 13, 2020
Reposted: Jul 3rd, 2021
Further Reading:
This Article is About:
Instagram bio ideas
How to write the perfect Instagram bio
Instagram bio link
Branded links for Instagram
LinkGallery